ASEF 2023 – Natural Sciences
ASEF Natural Sciences Category aims to promote interest in science among school students; exposing them to problem solving, critical thinking and experimentation. A good idea can come from anyone, anywhere. If you are between the ages of 10–18 we would like you to join us and share your ideas using science, technology, engineering and mathematics.
ASEF Natural Sciences Category aspires to develop scientifically informed, caring and responsible individuals who can think critically and make informed choices about themselves, the environment and society. It provides understanding and solutions to environmental problems using scientific knowledge, too.
The Category of Natural Sciences aims to:
Junior Category and Little scientists:

Their

`Project Description Paper`  latest by 8th February 2023
Senior Category:

 

Research Paper

and

Project Description Paper latest by 8th February 2023
The files must be uploaded as: namesurname_title project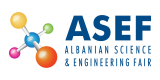 The Biggest Science & Engineering Fair in Albania
Contact us
+355 4 22 34 716
RR. PAVARËSIA | AUTOSTRADA TIRANË-DURRËS KM. 1
TIRANË, SHQIPËRI
© copyright 2021 by asef.al