ASEF 2023 – Social Sciences
ASEF Social Sciences Category encourages learners to engage in investigating social issues by asking essential questions, recognizing patterns of behaviors, thinking critically, creating solutions, predicting outcomes and drawing conclusions to solve social problems.
The Category of Social Sciences aims to:
Preparing a project for the social sciences category may seem a difficult task. Unlike natural sciences where one conducts experiments, social sciences projects require demonstrating knowledge of the world and other cultures. Yet, there are many ways to create original and interesting projects based on history and society with quantitative or qualitative approaches. 
Social Sciences Sub-Categories:
Linguistics and Communication
History and Geography
PPS (Philosophy, Psychology and Sociology)
Civics and Economics
Each sub-category will be awarded separately.
Junior Category and Little scientists

: Their "Project Description Paper" latest by

03.11.2023.
Senior:  Research Paper and Project Description Paper latest by 03.11.2023.      
The files must be uploaded as: namesurname_projecttitle.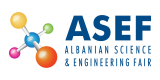 The Biggest Science & Engineering Fair in Albania
Contact us
+355 4 22 34 716
RR. PAVARËSIA | AUTOSTRADA TIRANË-DURRËS KM. 1
TIRANË, SHQIPËRI
© copyright 2021 by asef.al